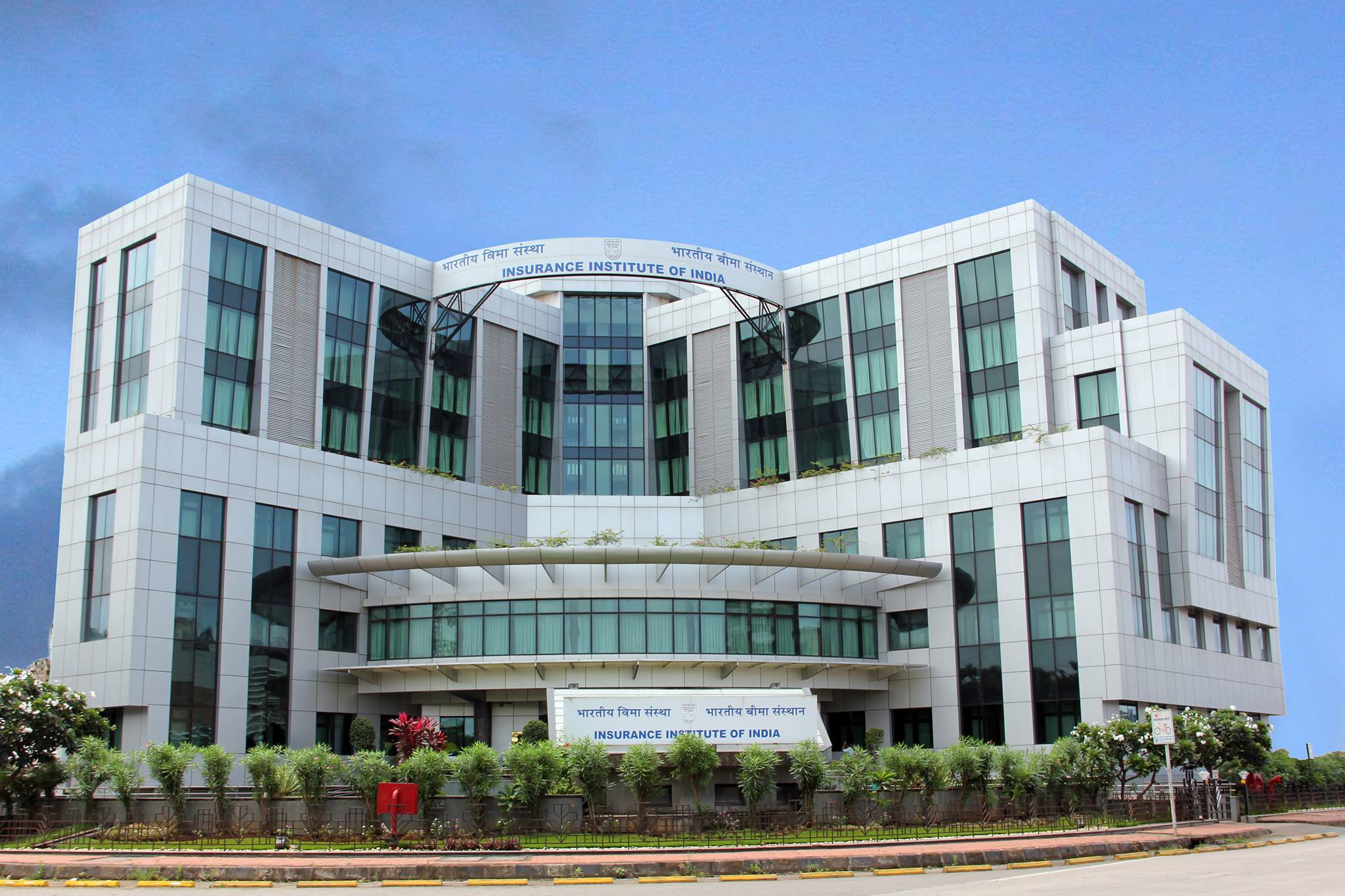 Previously the Insurance Institute of India was known as the Federation of Insurance Institutes (J.C. Setalvad Memorial). This Institute was set up in 1955 with a goal to promote the Insurance Education as well as Training in India.
In its starring role as a leading training and education provider I.I.I. is connected with all the sections of the insurance industry. This includes Insurance regulatory authority of India, private sector and public sector insurance corporations.
The Insurance Institute Of India conducts examinations at 3 stages:
Licentiate Examination
Associateship Examination
Fellowship Examination
Insurance Institute of India (I.I.I.) is the solitary specialized insurance institute in India and a chartered associate in the Institute of Global Insurance Education (IGIE).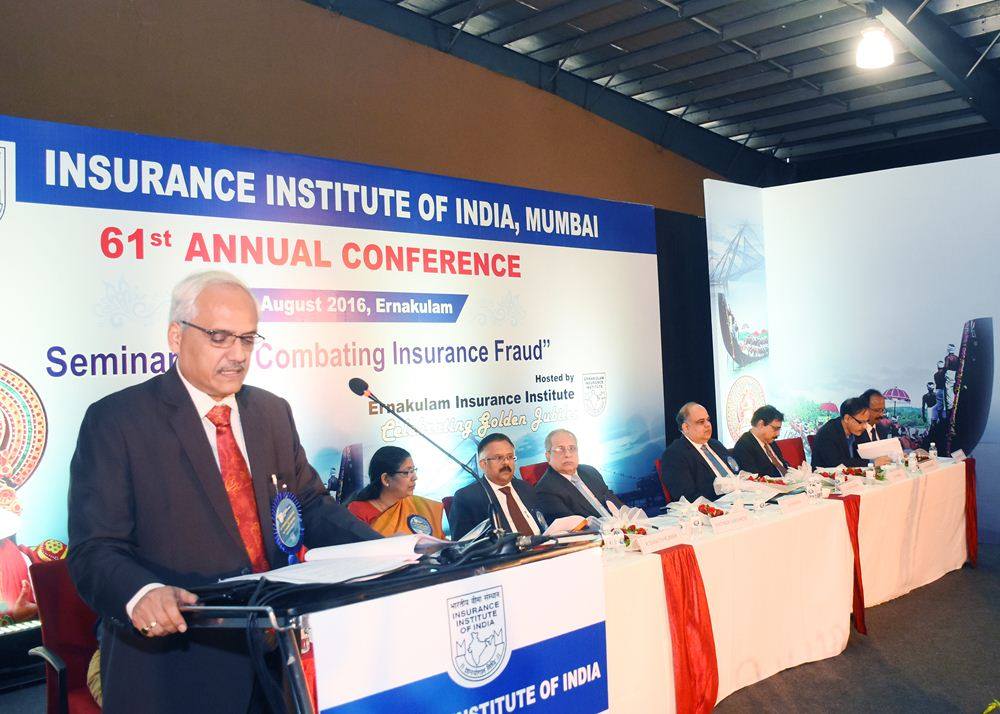 Objectives Of Insurance Institute Of India
The main aim of the Insurance Institute of India is to run Institution and to conduct exams, written & oral, in insurance practice, theory and other related subjects for giving degrees, certificates, and diplomas to those, who shows interest in the insurance field.
The activities & programs of this Institute help people in insurance Industry to obtain the expertise and skills so that they can meet the increasing needs of the multiplicity of the customers.
To provide postal and oral tuitions, these institutes prepare & supply study materials as well as other educative means for assisting and encouraging the eager persons in this field.
This institute offers grants, prizes, and scholarships for study or educational work associated with insurance field. The Insurance Institute of India determines the law & practice associated with insurance. The Institute also disseminates such information among those individuals interested in the insurance field.
NOTE:

The purpose of these objectives is to enhance the professional insurance facility to the billions of people in India.
Mission of The Insurance Institute Of India
The mission of the Insurance Institute of India is to convey systematic insurance learning, training. This institute also aims at making paths for development & research in this field of insurance and the insurance supplementary services. Thus, the institute's goal is to develop highly skilled and efficient insurance specialists to serve the civilization in the country and abroad.
Recommended Articles :- 
Insurance Institute Of India Details
Check out the below given table to see the details of Insurance Institute of India:
Take A Quick Glance:
Institute Name

Institute Address

Institute Email

Secretary Name

Secretary Email & Mobile No.

Agra Insurance Institute
C/o. Sh Ashwani Tomar, LIC of India, IT Dept 3rd Floor Sanjay Place, M.G.Road Agra 282002 Uttar Pradesh
[email protected]
Rajesh Sharma
Email- [email protected]

Mobile- 09927069699

Ahmedabad Insurance Institute
Ground Floor, Union Co.Op.Insurance Building Income Tax Circle, Ashram Road Ahmedabad 380014 Gujarat
[email protected]
G U Thaker
Email- [email protected]

Mobile- 9825129790

Ajmer Insurance Institute
C/o. LIC of India, Divisional Office, Ranade Marg, Alwar Gate, Ajmer 305008 Rajasthan
[email protected]
Rakesh Kumar Sethi
Email- [email protected]

Mobile- 9460177819

Aligarh Insurance Institute
C/o. LIC of India Divisional Office Masoodabad G.T. Road Aligarh 202001 Uttar Pradesh
[email protected]
Sachin Jain
Email- [email protected]

Mobile- 9837440099

Allahabad Insurance Institute
C/o. LIC of India, Divisional Office, 172/A/40, M.G.Road, Civil Lines, Allahabad 211002 Uttar Pradesh
[email protected]
Santosh K Vishwakarma
Email- [email protected]

Mobile- 9415288701

Amravati Insurance Institute
C/o. LIC of India, Shrikrishna Peth, Divisional Office, Jeevan Prakash, Amravati 444601 Maharashtra
[email protected]
A A Kothiwan
Email- [email protected]

Mobile- 9423124898

Amritsar Insurance Institute
C/o. National Insurance Co.Ltd, D26, Court Road,. Amritsar 143101 Punjab
[email protected]
Yatish Kumar
Email- [email protected]

Mobile- 9417022457

Andaman Insurance Institute
C/o. LIC of India, Port Blair, Branch Office, – Port Blair 744101 Union territory
[email protected]
Manoj Kumar Bannerji
Email- [email protected]

Mobile- 09474468611

Asansol Insurance Institute
Jeevan Prakash, LIC of India, Divisional Office, Ground Floor, G.T. Road, West End, Asansol Barddhaman 713304 West Bengal
[email protected]
Ranadeep Choudhury
Email- [email protected]‎

Mobile- 09476488890

Aurangabad Insurance Institute
C/o. LIC of India, Adalat Road, Divisional Office, Jeevan Prakash, Aurangabad 431005 Maharashtra
[email protected]
Shripad V.pisu
Email- [email protected]

Mobile- 9405180095

Bangalore Insurance Institute
United India Building, Ground Floor, J G C Road, – Bangalore 560002 Karnataka
[email protected]
B C Srinath
Email- [email protected]

Mobile- 9448954922

Bareilly Insurance Institute
C/o. LIC of India, Deen Dayal Puram, Divisional Office, Jeevan Prakash, Bareilly 243001 Uttar Pradesh
[email protected]
Ram Kishore
Email- [email protected]

Mobile- 9897236718

Belgaum Insurance Institute
C/o. LIC of India Goa Ves Divisional Office Basaveshwara Circle Belgaum 590011 Karnataka
[email protected]
Chandrashekhar S. Bolgundi
Email- [email protected]

Mobile- 9916039013

Bhavnagar Insurance Institute
C/o. LIC of India, Nilambag Circle, Divisional Office, Jeevan Prakash, Bhavnagar 364001 Gujarat
[email protected]
Manish N. Dave
Email- [email protected]

Mobile- 9428182836

Bhilai Insurance Institute
C/o the Oriental Insurance Company 1st floor, Shivnath Complex Divisional Office, G E Road Near Mourya Chandra Talkies Bhilai 490011 Chhattisgarh
[email protected]
G Raja Siva Kumar
Email- [email protected]; [email protected]

Mobile- 9826268844

Bhopal Insurance Institute
Pearl-306 Siddhi Safron Near Kemfort School Sunkhedi-Kolar Road Bhopal 462026 Madhya Pradesh
[email protected]
Dhanesh Chaturvedi
Email- [email protected]

Mobile- 09229201190

Bikaner Insurance Institute
C/o. LIC of India Sagar Road Divisional Office Sagar Road Bikaner 334003 Rajasthan
[email protected]
Rakesh Kumar Joshi
Email- [email protected]

Mobile- 09414146614

Bramhapur Insurance Institute
C/o. LIC of India Jeevan Prakash Divisional Office PO- Khodasingi behrampur ganjam 760010 Orissa
[email protected]
M K Chakraborty
Email- [email protected]

Mobile- 09438114158

Calicut Insurance Institute
C/o. LIC of India, Huzur Road, Divisional Office, Jeevan Prakash, Kozhikode 673001 Kerala
[email protected]
K Vijayachandran
Email- [email protected]

Mobile- 9446189498

Chandigarh Insurance Institute
Anand Theatre Complex, Chamber No.7-9, Opp. Taj Hotel, Sector 17- A, Chandigarh 160017 Haryana
[email protected]
K N S Sodhi
Email- [email protected]

Mobile- 9872070863

Coimbatore Insurance Institute
C/o. LIC of India, Divisional Office, . Trichy Road, Coimbatore 641018 Tamil Nadu
[email protected]
V Vetrivel
Email- [email protected]

Mobile- 9443370724

College of Insurance
Bandra Kurla Complex BKC beside American Consulate BKC Mumbai 400051 Maharashtra
[email protected]
Email- [email protected]
Cuddapah Insurance Institute
C/o. LIC of India, College Road, Divisional Office, P.O.Box No.10, Cuddapah 516004 Andhra Pradesh
[email protected]
Ms. N. Agilandeswari
Mobile- 08562244540
Dehradun Insurance Institute
C/o. LIC of India, Legal department, Hardwar Road, Divisional Office, – Dehradun 248001 Uttarakhand
[email protected]
RAJESH SHARMA
Email- [email protected]; [email protected]

Mobile- 9411555366

Delhi Insurance Institute
1st Floor, 76 Janpath, , Delhi 110001 Delhi
[email protected]
Rajeev Sharma
Email- [email protected]

Mobile- 7827175255

Dharwad Insurance Institute
C/o. LIC of India, College Road, Divisional Office, P.B.No.16, Dharwad 580001 Karnataka
[email protected]
Dinesh S. Bangera
Email- [email protected]

Mobile- 9448860741

Dhubri Insurance Institute
C/o. LIC of India, T.R.Phukan Road, Dhubri Branch Office, Porva Villa, Dhubri 783301
[email protected]
L Chakravorty
Email- [email protected]

Mobile- 9435512001

Dibrugarh Insurance Institute
C/o. The New India Assurance Co.Ltd., Rotary Road, Dibrugarh D.O., – Dibrugarh 786001 Assam
[email protected]
Mukti Prasad Dey
Email- [email protected]

Mobile- 9435355329

Ernakulam Insurance Institute
C/o. LIC of India, M.G.Road, Divisional Office, Jeevan Prakash, Ernakulam 682011 Kerala
[email protected]
John Mathew
Email- [email protected]

Mobile- 9388643004

Goa Insurance Institute
C/o. LIC of India, EDC Complex, Patto, Divisional Office, Jeevan Vishwas Building, Panaji 403001 Goa
[email protected]
Rajendra Golatkar
Email- [email protected]

Mobile- 9423061543

Gorakhpur Insurance Institute
C/o. LIC of India Taramandal Divisional Office Taramandal Gorakhpur 273017 Uttar Pradesh
[email protected]
Akash Tripathi
Email- [email protected]

Mobile- 8896318366

Guntur Insurance Institute
C/o. LIC of India, Main Road, Branch Office 699, Lakshmipuram, Guntur 522001 Andhra Pradesh
[email protected]
B Hymanand
Email- [email protected]

Mobile- 09490114475

Guwahati Insurance Institute
LIC of India, P&GS Unit Guwahati Divisional Office 5th Floor, S S Road, Fancy Bazar, Guwahati 781001 Assam
[email protected]
Babul Kumar Nag
Email- [email protected]

Mobile- 9435043259

Gwalior Insurance Institute
C/o. LIC of India, City Center, Divisional Office, Jeevan Prakash, Gwalior 474011 Madhya Pradesh
[email protected]
Lalit Pradhan
Email- [email protected]

Mobile- 9755193330

Haldwani Insurance Institute
C/o. LIC of India Nainital Road Divisional Office Jeevan Prakash, Kathgodam Haldwani Nainital 263126 Uttarakhand
[email protected]
Prakash Chandra Bhat
Email- [email protected]

Mobile- 9458355286

Hazaribagh Insurance Institute
C/o. LIC of India Julu Park, Holy Cross Road Divisional Office Jeevan Prakash (Annexe) Hazaribagh 825301 Jharkhand
[email protected]
Jagdish Chand Mittal
Email- [email protected]

Mobile- 9431141049

Hyderabad Insurance Institute
C/o. LIC of India, Opp. Secretariat Road, Divisional Office, SCZO, Jeevan Bhagya, Hyderabad 500063
[email protected]
V Raghu Venkata Prasad
Email- [email protected]

Mobile- 9247794065

Indian Insurance Institute Kolkata
C/o. Hindusthan Building, (Annexe) 5th Floor, 4, C.R.Avenue, Kolkata 700072 West Bengal
[email protected]
Sudipto Sarkar
Email- [email protected]

Mobile- 9433062205

Indore Insurance Institute
C/o. LIC of India Building, M.G.Marg, 19, – Indore 452001 Madhya Pradesh
[email protected]
Ratnakar Gaadhe
Email- [email protected]

Mobile- 9826041362

Jabalpur Insurance Institute
C/o. LIC of India, Nagpur Road, Divisional Office, Madan Mahal, Jabalpur 482001 Madhya Pradesh
[email protected]
Umesh Jaiswal
Email- [email protected]

Mobile- 9826177105

Jaipur Insurance Institute
C/o. LIC of India, Bhawani Singh Road, Divisional Office No.1, P.B.No.65, Jaipur 302005 Rajasthan
[email protected]
Sanjay Bilala
Email- [email protected]

Mobile- 9414296106

Jalandhar Insurance Institute
LIC Of India, Divisional Office, Model Town Road, – Jalandhar 144001 Punjab
[email protected]
Inder Jeet Kumar
Email- [email protected]

Mobile- 09876025254

Jalpaiguri Insurance Institute
LIC of India, Santipara, Divisional Office, Jeevan Prakash, Jalpaiguri 735101 West Bengal
[email protected]
Shri Joydip Raha
Email- [email protected]

Mobile- 09434367737

Jamshedpur Insurance Institute
C/o. LIC of India, Main Road, Divisional Office, Jeevan Prakash Building, Jamshedpur 831001 Jharkhand
[email protected]
Biplab Sarkar
Email- [email protected]

Mobile- 9431757804

Jodhpur Insurance Institute
C/o. LIC of India, Divl. Office, Circuit House Road, P.B. No.58, Jeevan Prakash, Circuit House road, 1st West Patel Nagar, Jodhpur 342001 Rajasthan
[email protected]
Mukesh Kumar Mewara
Email-[email protected];[email protected]

Mobile- 09414590170

Jorhat Insurance Institute
C/o. LIC of India Rajabari Divisional Office Jeevan Prakash Jorhat 785001 Assam
[email protected]
Sanjib Borthakur
Email- [email protected]

Mobile- 9435248062

Kanpur Insurance Institute
C/o. LIC of India, Legal & HPF Deptt., – Divisional Office, Kanpur 208001 Uttar Pradesh
[email protected]
Anil Kumar Bajpai
Email- [email protected]

Mobile- 09839991705

Karnal Insurance Institute
C/o. LIC of India 489 Model Town Divisional Office Jeevan Prakash Karnal 132001 Haryana
[email protected]
Parveen Kumar
Email- [email protected]

Mobile- 09416203422

Kolhapur Insurance Institute
C/o. The New India Assurance Co.Ltd., Employees Co-Op.Cr.Soc. Ltd. F-11, Royal Courts, 3rd Floor, Near Panch Bungalow, Shahupuri, Kolhapur 416001 Maharashtra
[email protected]
Mr S V Sonalikar
Email- [email protected]

Mobile- 9881897359

Kolkata Insurance Institute
C/o. Royal Insurance Building, Netaji Subhash Road, Ground Floor, 5, Netaji Subhash Road, Kolkata 700001 West Bengal
[email protected]
Samir Kumar Chatterjee
Email- [email protected]

Mobile- 9831184905

Kottayam Insurance Institute
C/o. LIC of India Kurian Uthup Road Divisional Office Nagampadom Kottayam 686001 Kerala
[email protected]
P Manoj Kumar
Email- [email protected]

Mobile- 09496117182

Lucknow Insurance Institute
C/o. LIC of India, 30, Hazratganj Divisional Office, Hazratganj, Lucknow 226001 Uttar Pradesh
[email protected]
A P Saraf
Email- [email protected]

Mobile- 9415114850

Machilipatnam Insurance Institute
C/o. LIC of India, Jeevan Prakash Building, Kennedy Road, Batchupet, Divisional Office, 2nd Floor, Machilipatnam 521001 Andhra Pradesh
[email protected]
Srinivasa Rao
Email- [email protected]; [email protected]

Mobile- 9298507657

Madras Insurance Institute
Bharat Insurance Building, Anna Salai, 1st Floor, – Chennai 600002 Tamil Nadu
[email protected]
NA
Email- [email protected]

Mobile- 9042281853

Madurai Insurance Institute
C/o. LIC of India, 16, Palam Station Road, CA Branch, Divisional Office Sellur, Madurai 625002 Tamil Nadu
[email protected]
G. Seenivasan
Email- [email protected]

Mobile- 9942350396

Meerut Insurance Institute
C/o. LIC of India, CBO-III, Saket, Prabhat Nagar , Meerut 250001 Uttar Pradesh
[email protected]
Pramod Kumar Gera
Email-[email protected]

Mobile- 9837043970

Mumbai Insurance Institute
Universal Insurance Building, Sir P.M.Road, 6th Floor, Fort, Mumbai 400001 Maharashtra
[email protected]
Vidyadhar G Salvi
Email- [email protected]

Mobile- 09820342781

Muzaffarpur Insurance Institute
C/o. LIC of India, Divl. Office, Umashankar Pd.Marg, – Jeevan Prakash, Muzaffarpur 842002 Bihar
[email protected]
Ranjan kumar
Email- [email protected]

Mobile- 09835041125

Mysore Insurance Institute
C/o. LIC of India, Mysore-Bangalore Road, Divisional Office, Bannimantap Extension, Mysore 570015 Karnataka
[email protected]
S.Sridhara
Email- [email protected]; [email protected]

Mobile- 9482378989

Nagercoil Insurance Institute
C/o. LIC of India, Trivandrum Road, Branch Office No.1, Krishnancoil, Nagercoil 629001 Tamil Nadu
[email protected]
A Joseph Jerin
Email- [email protected]

Mobile- 9442522753

Nagpur Insurance Institute
C/o. LIC of India, Divl. Office National Insurance Bldg., 1st Floor, Sales Dept., S.V.Patel Marg, Kingsway, Nagpur 440001 Maharashtra
[email protected]
G Hariharan Sarma
Email- [email protected] ; [email protected]

Mobile- 9423101236

Nanded Insurance Institute
C/o. LIC of India Hingoli Road Jeevan Prakash Gandhinagar Nanded 431605 Maharashtra
[email protected]
Ravi Muley
Email- [email protected]

Mobile- 9423437382

Nashik Insurance Institute
C/o. LIC of India, Golf Club Ground, Divisional Office, – Nasik 422009 Maharashtra
[email protected]
Mahesh More
Email- [email protected]

Mobile- 9823769545

Nellore Insurance Institute
C/o. LIC of India, Dargamitta, Divisional Office, P.B. No.15, Nellore 524003 Andhra Pradesh
[email protected]
V Chandrasekhara Sarma
Email- [email protected]

Mobile- 9440706012

Patna Insurance Institute
C/o. LIC of India,Patna Divisional Off No.1 Fraser Road, Opp to Patna Central Mall Jeevan Prakash Building, 1st Floor Patna 800001 Bihar
[email protected]
Mukesh Prasad
Email- [email protected]

Mobile- 9546682900

Pondicherry Insurance Institute
C/o. The New India Assurance Co.Ltd., Divisional Office, 179,J.N.STREET, 3rd Floor Pondicherry 605001 Union territory
[email protected]
N Ulaganathan
Email- [email protected]

Mobile- 9442153351

Pune insurance Institute
C/o. The New India Assurance Co.Ltd. Karve Road, Regional Office, 2nd Floor, Sharda Centre, Near Nal Stop, Pune 411004 Maharashtra
[email protected]
N.R.Hariharan
Email- [email protected]; [email protected]

Mobile- 9422009859

Raichur Insurance Institute
C/o. LIC of India Station Road Divisional Office Basweshwara Circle Raichur 584101 Karnataka
[email protected]
M Ravi
Email- [email protected]

Mobile- 9448973680

Raipur Insurance Institute
C/o. LIC of India, Pandri, Divisional Office, – Raipur 492004 Chhattisgarh
[email protected]
N.Jagannath Rao
Email- [email protected]

Mobile- 9424223731

Rajahmundry Insurance Institute
C/o. LIC of India, Near Morampudi Junction, Divisional Office, Jeevan Godavari, Rajahmundry 533103 Andhra Pradesh
[email protected]
M.Kodanda Ram
Email- [email protected]

Mobile- 9866821725

Rajkot Insurance Institute
C/o. LIC of India, Tagore Marg, Divisional Office, Jeevan Prakash Building, Rajkot 360001 Gujarat
[email protected]
Haresh Dudhrejiya
Email- [email protected]

Mobile- 9825117300

R.I.C.B. Insurance Institute
Royal Insurance Corporation Of Bhutan Ltd Post Box No 315 Thimphu Bhutan Bhutan 0 Andhra Pradesh
[email protected]
NA
Email- [email protected]
Salem Insurance Institute
C/o. LIC of India, Johnsonpet, Divisional Office, Jeevan Prakash, Salem 636007 Tamil Nadu
[email protected]
R Narayanan
Email- [email protected]

Mobile- 9443887172

Sambalpur Insurance Institute
C/o. LIC of India Ainthapali Divisional Office Jeevan Prakash Sambalpur 768004 Orissa
[email protected]
Tuhin Dey
Email- [email protected]

Mobile- 09437218823

Satara Insurance Institute
C/o. LIC of India, Sadar Bazar, Divisional Office, Sadar Nagar, Satara 415001 Maharashtra
[email protected]
Manisha Apte
Email- [email protected]

Mobile- 9421119415

Satna Insurance Institute
C/o. LIC of India Krishna Complex Divisional Office Krishna Nagar Satna 485001 Madhya Pradesh
[email protected]
Ramanuj Sinha
Email- [email protected]

Mobile- 9039877500

Shahdol Insurance Institute
C/o. LIC of India Burhar Road Divisional Office Ahuja Market, 2nd Floor Shahdol 484001 Madhya Pradesh
[email protected]
Rana Mallick
Email- [email protected]

Mobile- 09424954449

Shimla Insurance Institute
C/o. LIC of India 14 15 SDA Complex Divisional Office Kasumpti Shimla 171009 HimachalPradesh
[email protected]
Harsh Gupta
Email- [email protected]

Mobile- 09418588934

Silchar Insurance Institute
C/o. LIC of India, Jeevan Prakash, Divisional Office, Meherpur, Cacher (Assam), Silchar 788015 Assam
[email protected]
Sandip Chakraborty
Email-[email protected]

Mobile- 9435074156

Sri Lanka Insurance Institute
SLII HOUSE 133 St. Michaels Road, Sri Lanka Colombo 3 null
[email protected]
Udeni Kiridena
Email- [email protected]

Mobile- 94112451426

Srinagar Insurance Institute
C/o. LIC of India, Sonwar, Divisional Office, P.B.No.459, Srinagar 190001 Jammu Kashmir
[email protected]
G.S.Datta
Email- [email protected]

Mobile- 09419013239

Surat Insurance Institute
C/o. LIC of India, Muglisara, Divisional Office, Jeevan Prakash Opp.Municipal Corpn., Surat 395001 Gujarat
[email protected]
Kishor P.Patel
Email- [email protected]

Mobile- 9825333667

Thanjavur Insurance Institute
C/o. LIC of India, Gandhiji Road, Divisional Office, Jeevan Chola, Thanjavur 613001 Tamil Nadu
[email protected]
P.V.Rajan
Email- [email protected]

Mobile- 9442282207

Trivendrum Insurance Institute
HGA(P), I.T. Dept., Jeevan Prakash C/o. LIC of India, Divisional Office, Pattom, P.O. Thiruvananthapuram 695004 Kerala
[email protected]
Anoop R S
Email- [email protected]

Mobile- 9995969581

Udaipur Insurance Institute
C/o. LIC of India, Sub City Centre, Divisional Office, – Udaipur 313001 Rajasthan
[email protected]
Dilip Sachdev
Email- [email protected]

Mobile- 9413371042

Udupi Insurance Institute
C/o. LIC of India, Ajjarkad, Divisional Office, Jeevan Krishna, Udupi 576101 Karnataka
[email protected]
Suman L Upadhyaya
Email- [email protected]

Mobile-– 9449640422

Utkal Insurance Institute
C/o. LIC of India, Nuapatna, Divisional Office, – Cuttack 753001 Orissa
[email protected]
Ashok Kumar Kar
Email- [email protected]

Mobile- 09861431308

Vadodara Insurance Institute
C/o. LIC of India, Vadodara Divisional Office, Jeevan Prakash, Shubhanpura Near Samta Police Station Vadodara 390023 Gujarat
[email protected]
H C Shah
Email- [email protected]

Mobile- 9898012454

Varanasi Insurance Institute
C/o. LIC of India, B-12/120, Divisional Office, Gauriganj, Bhelupur, Varanasi 221001 Uttar Pradesh
[email protected]
Rakesh Gujrati
Email- [email protected]

Mobile- 9450012074

Vellore Insurance Institute
C/o. LIC of India IDA Scudder Road Divisional Office Jeevan Prakash Vellore 632004 Tamil Nadu
[email protected]
C Jambu Kumar
Email- [email protected]

Mobile- 9942062770

Vijaywada Insurance Institute
C/o. LIC of India, M.G.Road, City Branch 2, Vasu Estates, Beside Manorama Hotel, Vijayawada 520002 Andhra Pradesh
[email protected]
D V V S Vara Prasad
Email- [email protected]

Mobile- 9440183375

Vikramshila Insurance Institute
C/o. LIC of India Jeevan Prakash Divisional Office Zero Mile Bhagalpur 813210 Bihar
[email protected]
Shiv Narayan Sah
Email- [email protected]

Mobile- 09470760957

Vishakapatnam Insurance Institute
C/o. LIC of India, Jeevan Prakash Road, Divisional Office, Jeevan Prakash, Vishakapatnam 530004 Andhra Pradesh
[email protected]
K Pydisetty
Email- [email protected] ; [email protected]

Mobile- 9490265197

Warangal Insurance Institute
C/o. LIC of India Balasamudram Divisional Office Hanamkonda Warangal 506001 Andhra Pradesh
[email protected]
T Haragopal
Email- [email protected]

Mobile- 9490109099